Chilled or frozen
With reduction in weight, low noise and heat dissipation, the refrigerator enables an airline to offer a premium catering service without a high cost of ownership.
Would you like to find out more about 'Refrigerator freezer chiller'?
Click here to contact us.
In-service products
Refrigerator freezer chiller 921/928 ARINC standard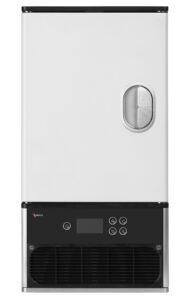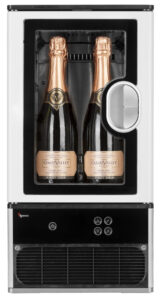 The unique structure of the 3-mode refrigerator is made from composite materials, including a high performance foam which increases thermal insulation. All internal surfaces of the cabinet incorporate conduction cooling elements to ensure uniform temperature. Cooling of the refrigeration cabinet is achieved by way of a vapour-compression cycle using CFC-free refrigerant. The unit is designed for operation on a 115 V, 360-800Hz, 3-phase electrical supply.
Ipeco's 3-mode refrigerator is easy for cabin crew to operate. The control module is intuitive and a range of pre-programmed temperatures are available including a boost cycle for rapid cooling. A clear indication of the refrigerator's status is shown on a large display.
Essentials:
3 Modes – refrigerate (+4°C), beverage chill (+8°C) and freeze (-18°C)
Empty cavity from: +24°C to +4°C in 5 minutes
Empty cavity from +24°C to -18°C in 15 minutes
Twelve (70cl) wine bottles from +21°C to +8°C in less than 60 minutes
Available with a solid or glass door
Control is intuitive with a range of programmes including a boost cycle for rapid cooling
Made from composite materials which includes a structural foam, for increased strength and insulation
First in its class to utilise both forced air and conduction cooling so that optimal performance is delivered in all circumstances
External dimensions: 563mm x 287mm x 570mm or 22.17 x 11.30 x 22.44 inches
Internal dimensions: 218.6mm x 345mm x 457mm or 8.60 x 13.58 x 18 inches, 11.9 litres
Empty weight: 25kg or 55.1lbs
Capacity: 12 upright wine bottles or 35 litres
Interfaces: Electrical and mechanical interface similar to ARINC 810
Applications:
921 – A320, A330, A350, A380
928 – B737 MAX, B767, B777, B777X, B787
Products in development
Saros® refrigerator freezer chiller