Faster turn around...
Faster defrosting and heating of foods and beverages is essential for streamlined in-flight service especially for first and premium class passengers.
Would you like to find out more about 'Microwave oven'?
Click here to contact us.
In-service products
932/933 ARINC microwave oven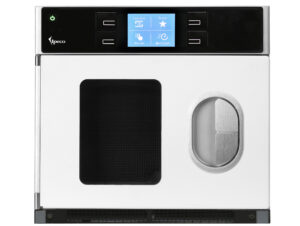 Designed to provide a first class service in a relatively compact ARINC size 4 space in the galley, the 932 and 933 are based on a modular design for ease of maintenance and provide hot meals and beverages on demand to discerning passengers, on a reduced power input without compromising heating performance. The clear and intuitive controls enable cabin crew to set a number of power adjustable and pre-programmable cooking cycles, and a large visual display indicates the oven's cooking status.
External dimensions:
932: 269.30mm x 287mm x 568.75mm or 10.6in x 11.3in x 22.4in
933: 269mm x 287mm x 570mm or 10.59in x 11.29in x 22.44in
Internal dimensions:
932: 223.71mm x 250mm x 252mm or 8.81in x 9.84in x 9.92in
933: 250mm x 252mm  x 223mm or 9.84in x 9.92in x 8.77in
Empty weight:
932:18kg or 39.7lbs
933: 17.4kg  or 40.5lbs
Power supply: 115V AC 360-800Hz variable frequency 3 Phase (3 wire)
Maximum power consumption: 1250VA @ 400Hz, 1310VA @ 800Hz
Interfaces: Electrical and mechanical interface similar to ARINC 810
Application: 932 model – A330neo and A320neo from Q4 2020. 933 model – Boeing 777/777X from Q2 2021
Further iterations of this design are currently in development, including alternative sized microwave ovens.
Products in development
Saros® microwave oven