Designed and manufactured to last
Ipeco's innovative ARINC 1 size beverage maker delivers hot beverages on demand via independent routes for coffee and hot water to ensure an excellent taste experience.
Would you like to find out more about 'Beverage makers'?
Click here to contact us.
In-service products
Beverage maker 943 ARINC standard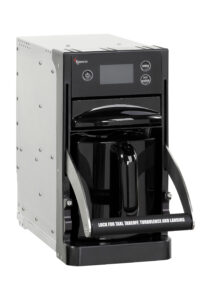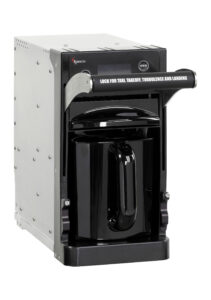 The unit incorporates a unique flow-through heating technology which allows water to move through the system at the same time as it is being heated with no initial heating or recovery time, delivering limescale reduction benefits. Reliability is enhanced by positioning valves in the cold water areas of the system and fill-level sensing technology elements that are not in directcontact with jug contents. The unit is also able to accept universal jugs.
Essentials:
Dispenses 1.1L of beverage in 4 minutes
Thermo-insulated jug maintains beverage temperature with no additional power
External dimensions (excluding handle):
307mm x 162mm x 279mm or 12.09 x 6.38 x 10.98 inches
Empty weight (including jug): 7kg or 15.4lbs
Interfaces: Electrical and mechanical interface similar to ARINC 810
Applications: STC only
Products in development
Saros® beverage maker